K-State Computer Case Mod
This is my latest computer. The case is a Thermaltake Xaser I in Infinity Silver. It hasn't been modded a lot other than the Wildcat. The cat was cut on a CNC Millport Mill using an 1/8" end mill. A piece of smoke colored glass is siliconed in place to seal the cat opening. The internals consist of : Asus A7N8X-E Deluxe, AMD Sempron 3200 w/Thermalright SLK947U HS, 1.5 Gb DDR, Sony Black DW-D22A-B2 DVDRW, Sony Black 16x DVD, 1- 80Gb Wes. Dig. HD and 1- 120Gb Wes. Dig. HD, Enlight memory card reader, ATI AIW Radeon 9000 pro, SoundBlaster Live 5.1 sound card, Antec 400 Watt PSU, Purple neon's, etc. It is powered by Windows XP Home. Cooling is provided by 4 80mm fans. The back 2 fans and the CPU fan are 80mm Antec Smartcool with the thermal sensor soldered to achieve full rpm. The front intake fan is an 80mm Thermaltake thermal fan. The top blowhole is covered with a purple powder coated YenYang grill. Click the pictures to see larger images.
Below is my old system which I still have and passed on to my son. A lot of the components in this machine got transferred to the new one above but it is still a pretty fast machine.
| | |
| --- | --- |
| First Photo after the window was cut and installed. The motherboard here is a junker I installed just to power it up and see what the light looked like. | Top 120mm Toyo blow hole with custom laser cut grille from 2Cooltek. This fan alone dropped case temp around 10 degrees Fahrenheit. |
| | |
| --- | --- |
| Here is the finished product with the side panel back on and ready to run. You can see the Wizard a little better here. | Side shot of the finished product. I felt it turned out well for my first attempt at case modding. |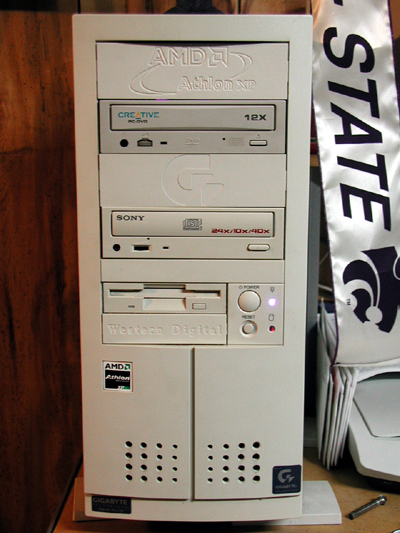 The above picture shows the front blank bay covers redone. I used the CNC mill to cut the logos around .006" deep.
4/01/2002: Decided I was bored with my keyboard and mouse so I ripped them apart and painted them. The first paint job on the keyboard looked bad, so I sanded it off and decided to primer it first. After several coats of primer I sanded it somewhat smooth then painted again. It is far from perfect, but looked good enough I decided not to sand and start over again. Later I may attempt some lights inside to light the keys. Next boredom project!?
This page created 3/13/2002 and updated 4/8/2010.